Efficient and long lasting products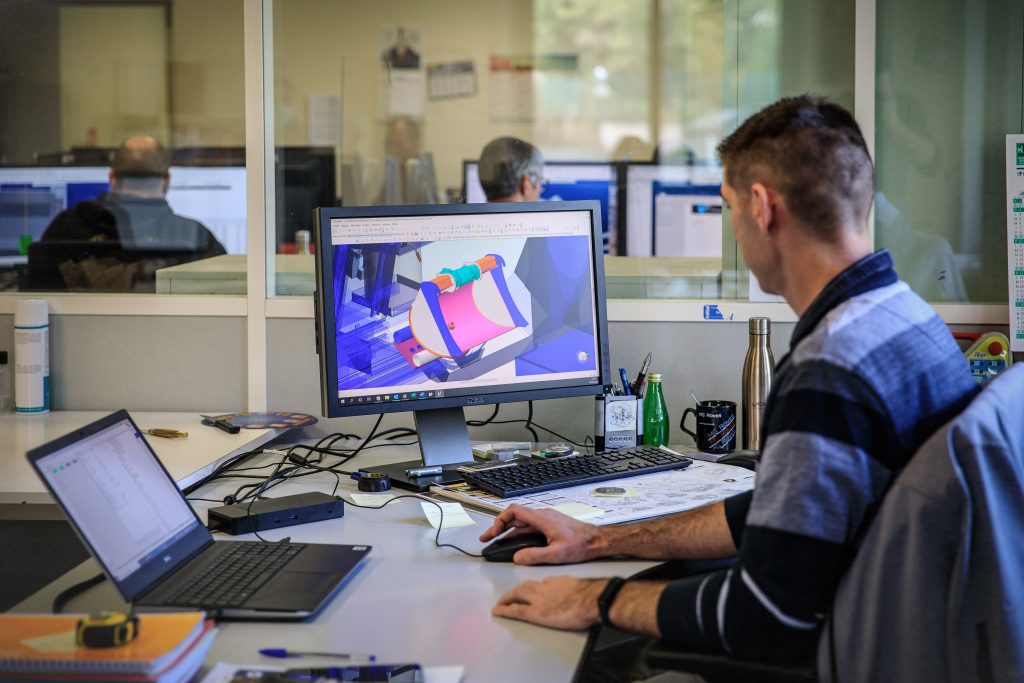 Strong convictions for efficient equipment that respects the manufacturers' recommendations
Our conviction is that the products should always be perfectly compatible with the vehicles on which they are installed. Optimum compatibility and fine setting up are never forgotten.
All our products are perfectly compatible with your machine and respect the original kinematics and load tables.
ACB+ has a dedicated coupler for every machine.
For example our Module 1 couplers exist with more than 50 possible machine kinematics! Thus, ALL our couplers, including the tilt-rotators, match the machine geometry. That's the difference between a multi-brand generic product and a dedicated product, optimised for your productivity.
To be certain that you are always the most productive.
Robust engineering for one lasting products
To guarantee the design quality of all our products, our design department uses 3D CAD software, coupled with an efficient technical data management system.
Our engineers use simulation and finite element stress computing software. This design process ensures a long working life for our products.
Our products are high quality, due to the grades of steel and the thicknesses used, and also due to their inherent construction.
Our entire range of buckets is offered, as standard, with double bottoms, to ensure a longer working life. Our buckets are custom-equipped with armour, blade and side protection shields, to specifically meet the needs of your application.
You will receive a real 3D sketch of the deliverable bucket when validated, before production is started on your bucket.
Our products are intensively tested on various sites, before series production is launched.
Thus, you get a two-year guarantee on all our couplers, tilt, rotating or tiltrotator, and a one year guarantee on the tools, except for parts subject to wear.
In spite of changes in standards, we make every effort to ensure that most of our customers' equipment remains compatible with our new couplers. Some of our customers are still using tools that are more than fifteen years old, and that are still being used on our present couplers.
We have strength convictions, to offer you maximum profitability, and also for better preservation of the environment!
The steel grades used are anti-abrasion steels for the exposed parts of our products, in particular Swedish steels, high elastic limit steels when required for weldability, and conventional construction steels for structural elements and general applications.
All our products are functionally inspected after production and particular care is taken concerning the welds and their finish. The robotised welding gives our products constant quality and optimum strength.
We also manage the traceability of our products, to provide the highest level of quality, and a certificate or an EC declaration of conformity is issued with every product.