Our French industrial facilities
Thanks to our industrial facilities, 95% of our products are designed and manufactured in France, in our factories located in the Beaujolais and the Loire Valley.
Made in France, on specialist production sites
ACB+ production represents a total of more than 16 000 m² of covered workshops, spread over five sites:
B1 and B2 are at Saint-Lager (69), at the company's head office.
These sites manufacture specific excavator buckets, loader buckets, 4×1 skips, pallet hoists and other special products.
Sheet metal parts are cut out, formed and assembled either on the site, or are sent to the other sites for the construction of our products. Our considerable machining resources can finally machine very large pieces.
B3 at Belleville en Beaujolais (69),
This site is dedicated to mini-excavators. All the Morin Original system mechanical couplers and most of the tools in modules 0 to 3 are made here.
B4 at Lailly-en-Val (45)
This site manufactures all the hydraulic couplers, inclinable, orientable and tilt-rotator couplers, and most of the tools for modules M4 to M7+. Several numerical control machining centres enable us to machine most of our own castings.
B5 at Régnié-Durette (69)
This site is equipped with a laser cutting machine and supplies basic parts to the other sites. It also makes some of the tools for the mini-excavator.
Although each site has its own product lines, resources are mutualised, and a product made on one site can also be made on another, in order to smooth workloads over the year, and thus provide better service.
More than ten welding robots, spread over all the sites, ensure maximum and constant quality for your products.
All the sites are linked through a computer network and mutualise their design, production management, machining, cutting and forming resources.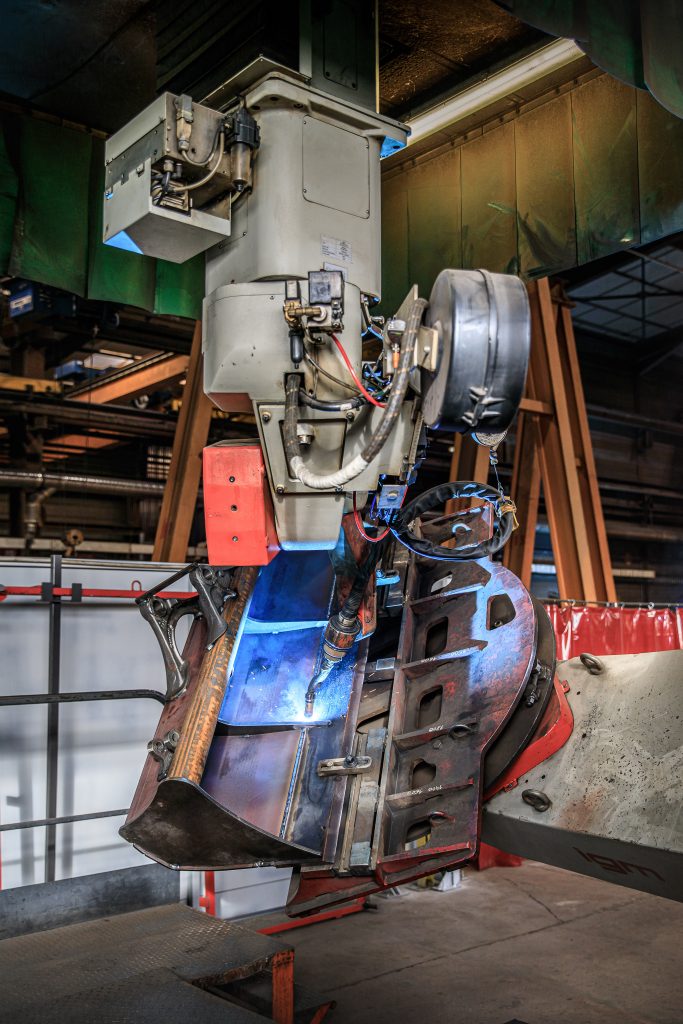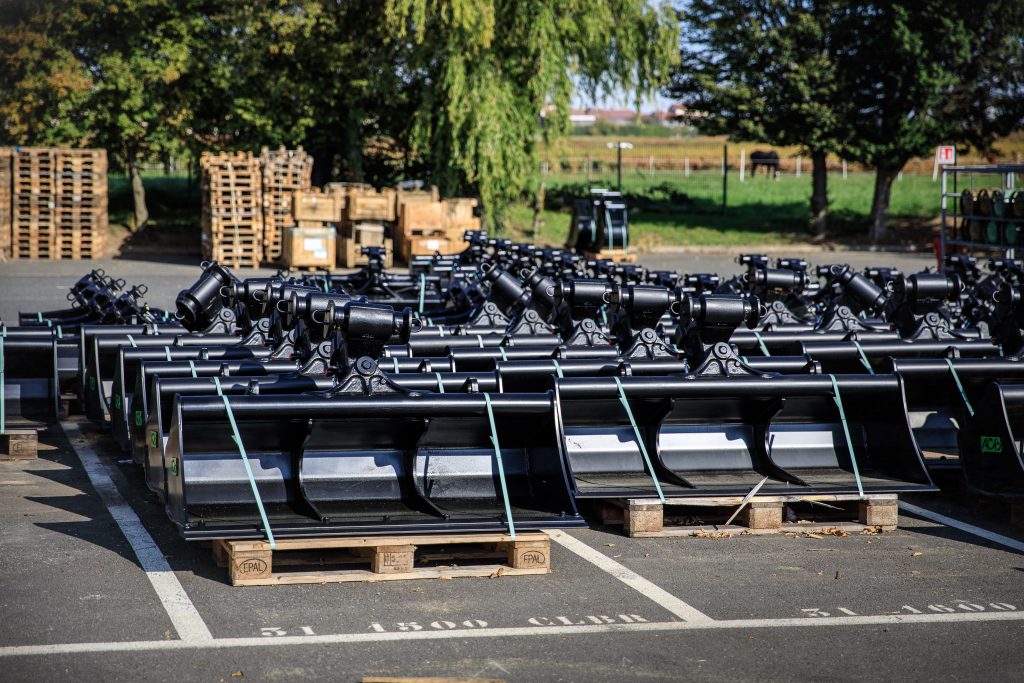 Operational excellence for more reliable production and delivery schedules met
ACB+ manufactures very different products:
in size: from a few kg up to 6t,
in quantity: from single units up to several hundred per year
in production time: the time to produce a product ranges from a few hours up to around 150 h.
For a very variable demand:
in quantity: from single units up to several dozen,
in seasonal factor: demand in the first quarter often twice that of the others.
To meet such a diversity of production and such varied demand, appropriate production solutions have been implemented. Their main objective is to meet our delivery and product quality commitments.
For the most common (already coded) catalogue products, we hold a stock of almost finished products. This stock is increased approaching the season, to meet your demand and to limit the longer delivery times.
This represents more than 1000 couplers, covering 80 part numbers, and more than 2000 semi-finished tools, stored on 1200 m².
For products to specification, we have been working for more than 2 years to reliably respect our delivery times.  The very great variety of the products means very great variations in our production system. A station that is under-working on Monday may be saturated on Tuesday, and vice-versa. For this reason, we monitor the key points of our production, every day, in order to react very quickly and to take any necessary action in real time.
This collective working has enabled us to considerably improve the meeting of our commitments.
For products that are not managed in stock, a production time of between 4 and 6 weeks must be allowed.
We monitor our service ratio on a day-to-day basis and we are committed to minimising our production times
A company that is continually improving
We have implemented a continuous improvement process, leading to increased customer satisfaction.
With Lean Manufacturing, we organise Gemba Walks (floor rounds) with a tablet, to continually improve.