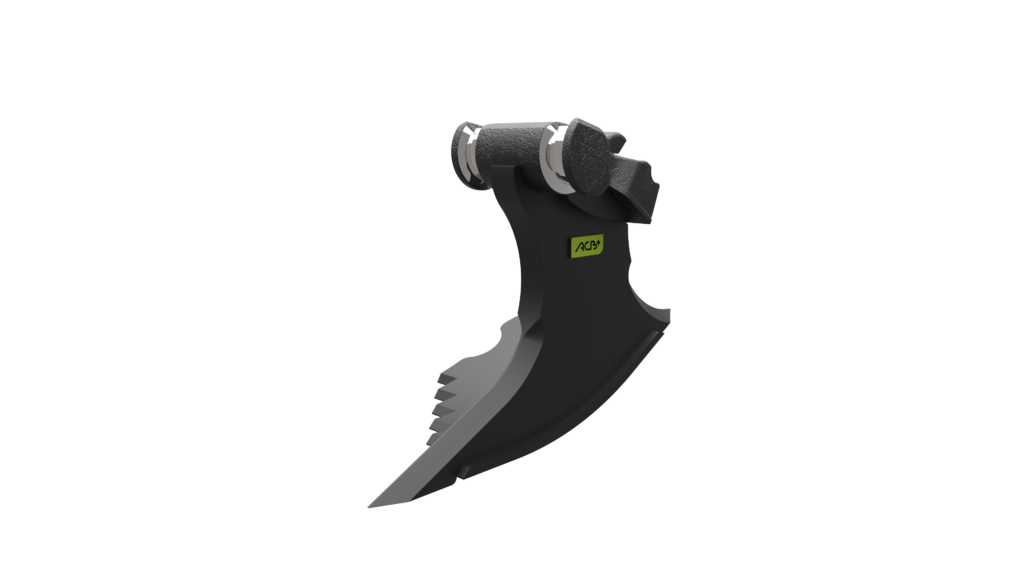 Product guide for excavators
Stump planer
M0 to M7 Carriers from 800kg to 35t
Tree stumps are always big and difficult to extract for landscaping work. In addition, you won't know what to do with the stump when you've extracted it. The levelling tine allows the stump height to be reduced to below the finished surface level and to work on the tree roots in situ.  With our stump planer, you'll be able to use its central spike to split the trunk and plane it down by successive passes, using the stepped front cutter .
The rear part, in the form of a vertical cutter, will enable you to cut the main roots around the stump, to speed up its decomposition and avoid continued growth.
Of course, complete stump removal is possible. The operating method should be compatible with the size of the stump concerned.
Built based on a ripper tooth, the right or left dual leveller tooth is robust and effective. The initial sharpening is obtained by machining metal plate, grade 400HB, and the rounded form provides a good contact surface for leverage. The stump planer can be sharpened using a disc grinder, to restore its cutting properties.
Technical data
This is an example of realization, all our tools are customizable, find out more.
| Module | Profile / Series | Core thickness (mm) |
| --- | --- | --- |
| M0 Carriers from 800kg to 2t | 0E | 40 |
| M1 Carriers from 2 to 3.5t | 1E | 40 |
| M2 Carriers from 3.5 to 5.5t | 2E | 50 |
| M3 Carriers from 5.5 to 7.5t | 3E | 50 |
| M4 Carriers from 7.5 to 10.5t | 4E | 60 |
| M5 Carriers from 10.5 to 15t | 5E | 60 |
| M6 Carriers from 15 to 24t | 6E | 80 |
| M7 Carriers from 24 to 35t | 7E | 100 |